Florida Blue Florida Classic
It's almost game time! Check out our Florida Blue Florida Classic Event Guide before you arrive.

The nation's premier HBCU football rivalry will celebrate its 25th game in Orlando when the Bethune-Cookman University Wildcats meet the Florida A&M University Rattlers in the Florida Blue Florida Classic on November 19.
It's Friday, so it's time for another #ClassicMoment.

Today, we're rewinding to Nov. 20, 2010 when the Rattlers denied the Wildcats an undefeated season. #FlashbackFriday pic.twitter.com/m2WXGjKgBD

— Florida Classic (@FloridaClassic) October 7, 2022
Kickoff is scheduled for 2:30 p.m. Broadcast details will be confirmed in due course. Admission includes the world-famous McDonald's Halftime Show featuring the Marching Wildcats of Bethune-Cookman and the Marching "100" from FAMU.
The Florida Classic is more than just a football game and more than an in-state rivalry. It is now the nation's largest football game between two Historically Black College/University (HBCU) schools, surpassing the Bayou Classic between Grambling and Southern in New Orleans as the top attended game in NCAA Division I-AA. Since its inception in 1978, the game has now seen over 2 million spectators attend the game (2,102,576).
This week's #ClassicMoment takes us back to Nov. 17, 2018 when a Pick 6 by Ty'Darius Peters sealed the win for B-CU. #FlashbackFriday pic.twitter.com/GTwvjuqM2k

— Florida Classic (@FloridaClassic) September 23, 2022
In addition to the star power on the gridiron — with such names as Rashean Mathis, Nick Collins, Eric Weems and Quinn Gray dotting rosters since the move to Orlando — FAMU's Marching 100 and B-CU's Marching Wildcats always provide the perfect soundtrack for Classic weekend with their memorable halftime performances, while the pregame FanFest outside the stadium offers a tailgate experience unlike any other.
Read More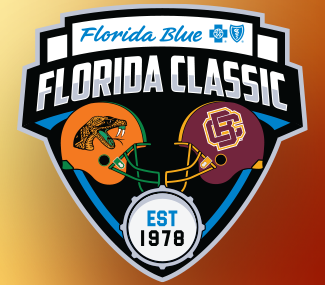 | | |
| --- | --- |
| | Sat, Nov 19, 2022 at 2:30 PM Cal |
| | |
| | |