Event Day Timeline
8:00am – Parking Lots Open
10:30am – Fan Fest Begins At Tinker Field
12:30pm – Gates Open
2:30pm – Kickoff
6:30pm – Estimated End Time
Mobile Ticketing
With the increased focus on secure, contactless entry, the Florida Blue Florida Classic will utilize digital tickets moving forward. The ability to manage your tickets from your smartphone will provide a more convenient experience, while drastically prohibiting the risk of counterfeit tickets. You can use the information below to guide you through the steps of accessing, selling and transferring your mobile tickets for Florida Citrus Sports events at Camping World Stadium.

Public Parking
On game day, all stadium parking lots are manned and reserved for permit parking, recreational vehicles, chartered buses, and disabled parking. Parking lots open at 8 a.m. on gameday. Fans are encouraged to use the City of Orlando's downtown shuttle service on game day if they do not have a parking permit.
Public parking is also available at downtown surface lots and garages. Those wishing to park downtown can take advantage of the free shuttle to and from the stadium. Visit our game day page for full shuttle information, including locations and times.

---
RV & Tow Vehicle Parking Only
If you plan on towing ANYTHING behind your vehicle (this includes BBQ Cooker/Smoker, Trailer, Standard Size Automobile), you will be REQUIRED to purchase and present a separate parking permit for the item being towed OR you will be turned away from the parking lot. Any vehicles arriving at the parking lot on gameday without the proper parking permits in hand WILL NOT be admitted into the parking lot. RV Parking Policies »

---
ADA/Disabled Patron Parking
Disability-accessible parking is available in Lot 6. You must have a state-issued ADA placard or license plate to park in these locations. Parking & Tailgating Policies »

---
Stadium Parking Map
Shuttle Information
The City of Orlando will offer FREE downtown shuttle service to Camping World Stadium.
Pick-Up Location: Anderson St. & Boone Ave. (outside City Commons Garage)
Drop-Off Location: Nashville Ave. & Church St.
Time: Shuttle buses will run to and from the stadium starting at 8 a.m. and running until 1 hour after the game.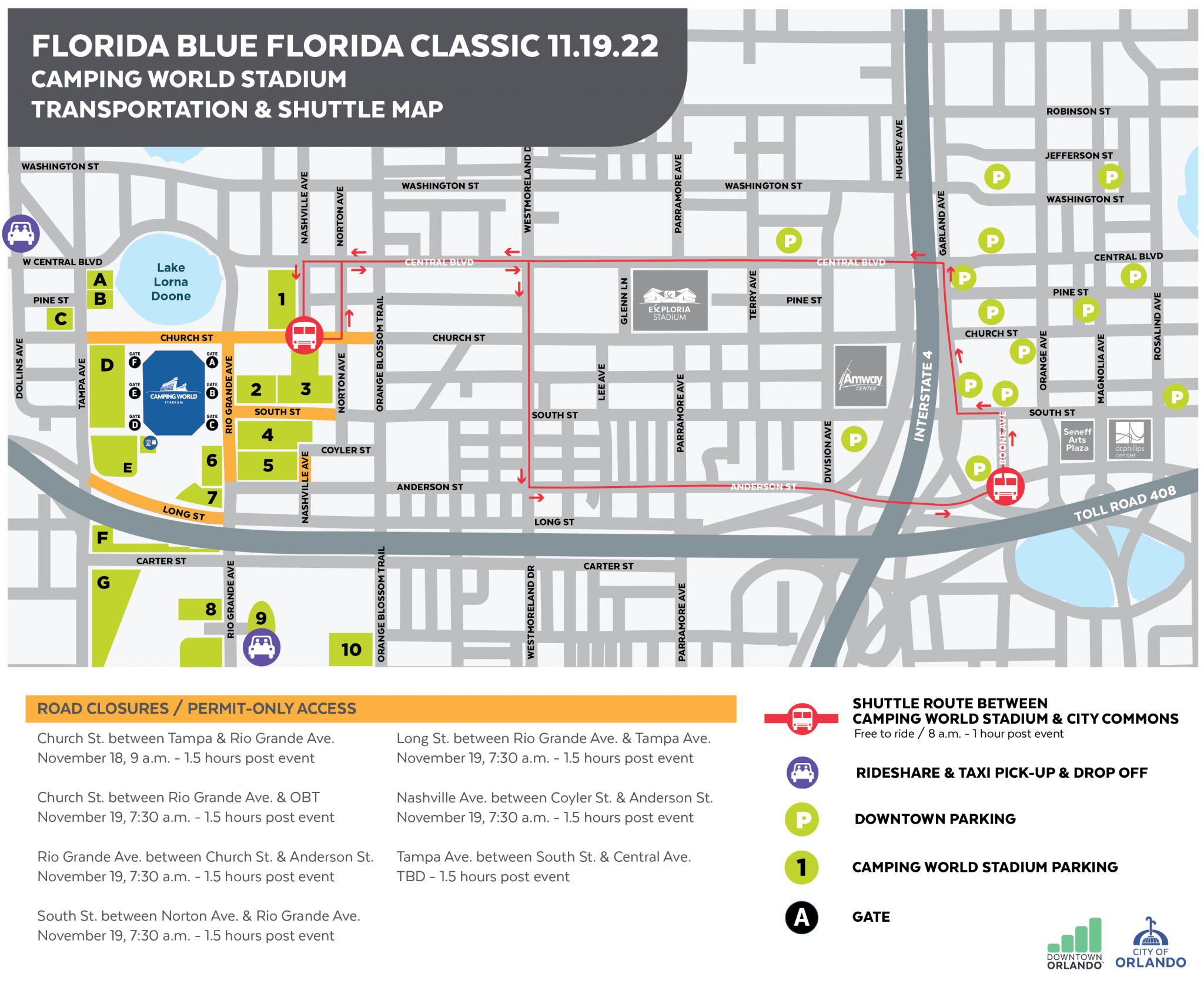 Maps and links for other downtown surface lots and garages are available at CityOfOrlando.net
Tailgating
Tailgating is allowed in all Camping World Stadium lots EXCEPT Jones High School. Please visit Camping World Stadium's website for full Tailgating Policy.
ADA

For our complete ADA guide, please click HERE.

Cameras

Cameras with a detachable lens, iPads and the use of flash photography are prohibited at all Camping World Stadium events. The stadium reserves the right to approve camera use at any time during and/or before the event and to prohibit the use of any camera that is deemed unacceptable. Call the administration office at 407.440.7000 prior to the event for any camera policy updates. Camera policy is subject to change at any time at the show's discretion.

Clear Bag Policy

To provide a safer environment for the public and significantly expedite patron entry to Camping World Stadium, a 'clear bag' policy will be implemented at the below upcoming events. This policy limits the size and type of bags that may be brought into the stadium.​

We highly discourage patrons from bringing any type of bags and have outlined the types of permissible bags.

Patrons may bring the following style and size bags inside the stadium:

Bag styles: clear plastic, vinyl or PVC and do not exceed 14″ x 14″ x 6"
One-gallon clear plastic freezer bag (Ziploc bag or similar).
Small clutch bags not exceeding 4.5" x 6.5" may be taken inside the stadium.

Exceptions include medically-necessary items and parent bags. All items are subject to security search guidelines.

Prohibited bags include, but are not limited to:

Bags larger than a clutch bag
Coolers
Briefcases
Backpacks
Fanny packs
Cinch bags
Luggage of any kind
Computer bags and camera bags or any bag larger than 4.5" x 6.5".

MOBILE LOCKERS

Available near Church Street and Rio Grande Avenue
$10 per locker

Gate Entry

PLEASE NOTE: Camping World Stadium is implementing additional procedures to ensure guest safety, including designated entry points. It is recommended guests enter through the gate specified on their ticket.

The following gates provide access inside the stadium:

Gate A: NE corner of stadium near Church Street & Rio Grande Avenue
Gate B: East side of stadium off Rio Grande Avenue (Required Premium entry for Club, Lounge & Plaza Suites)
Gate C (AdventHealth): SE corner of stadium off Rio Grande Avenue
Gate D (FunSpot): SW corner of stadium off Tampa Avenue near Tinker Field and Parking Lots D and E
Gate E: West side of stadium near Tinker Field, off Tampa Avenue (Required Premium entry for Club, Lounge & Plaza Suites)
Gate F (Massey Services): NW corner of stadium off Church Street & Tinker Field

Prohibited Items

*For all other information, please visit our A-Z Guide

Additional Information

Guest Services (west side of North Box Office) until one (1) hour after the event.

Post Event

Stadium Security Office located at the loading dock – 407.440.5740


MAMAVA® STATION

Located outside Section 151


SENSORY ROOM

Check-in at Guest Services (near Section 148)
Located on Field Level between Section 103 and 105


SMOKING AREAS

Field Level // Outer concourses along stadium perimeter fence line
Plaza Level // Outer concourses along stadium perimeter
Terrace Level // Outer concourses along stadium perimeter


TICKET POLICY

If a child reaches their 2nd birthday by the day of the event, the child is required to have a ticket.