Welcome to your one-stop destination for everything you need to know before the hottest concert of the year! From showtime details and venue information to tips on transportation, we've got you covered.
Keep this page bookmarked and stay tuned for regular updates as we get closer to the event.
PLAN AHEAD, ARRIVE EARLY and BE PATIENT.
Event-Day Timeline
Shuttle Start Time: 3:00 P.M.
Parking Lots Open: 3:00 P.M.
Box Office Opens: 3:00 P.M.
Fanfest Starts: 4:00 P.M. (Lake Lorna Doone Park)
Gates Open: 5:00 P.M.
Show Starts: 7:00 P.M. *Show is rain or shine
The concert is expected to end at approximately 11:30 PM. Please be aware that SunRail services will NOT be available after the Karol G concert. Please consider alternative transportation options.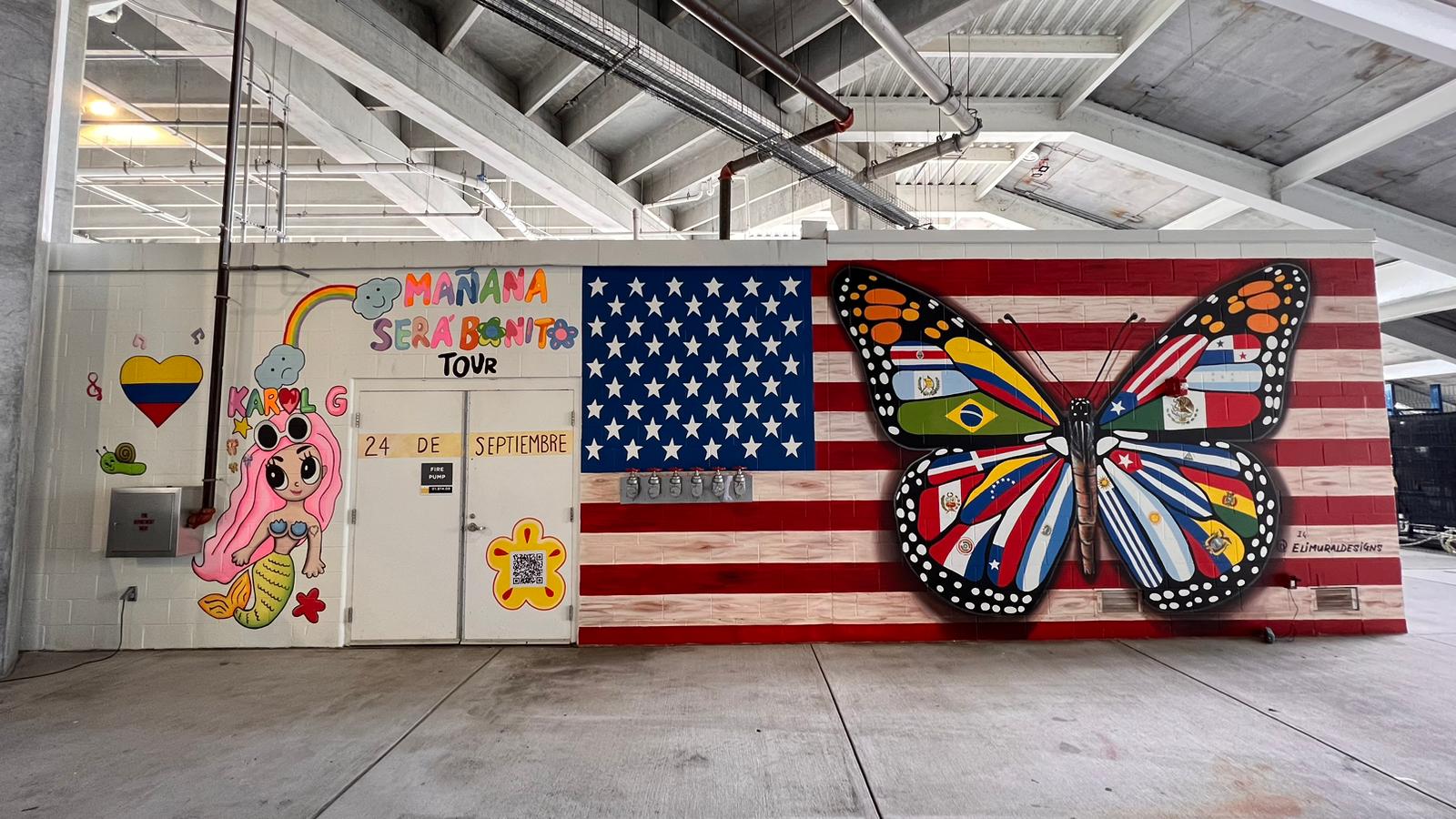 Immerse yourself in the vibrant world of Latin inspiration! Don't miss the chance to capture a moment against our stunning mural on the Field Level near Gate A. Swing by before, during or after the concert for a sizzling backdrop that's as hot as the show itself!
Share your photos using #KarolGatCWS and tag us @CampingWorldStadium
Fan Fest at Lake Lorna Doone Park

Clear Bag Policy

To provide a safer environment for the public and significantly expedite patron entry to Camping World Stadium, a 'clear bag' policy will be implemented at the below upcoming events. This policy limits the size and type of bags that may be brought into the stadium.​

We highly discourage patrons from bringing any type of bags and have outlined the types of permissible bags.

Patrons may bring the following style and size bags inside the stadium:

Bag styles: clear plastic, vinyl or PVC and do not exceed 14″ x 14″ x 6"
One-gallon clear plastic freezer bag (Ziploc bag or similar).
Small clutch bags not exceeding 4.5" x 6.5" may be taken inside the stadium.

Exceptions include medically-necessary items and parent bags. All items are subject to security search guidelines.

Prohibited bags include, but are not limited to:

Bags larger than a clutch bag
Coolers
Briefcases
Backpacks
Fanny packs
Cinch bags
Luggage of any kind
Computer bags and camera bags or any bag larger than 4.5" x 6.5".

MOBILE LOCKERS

Available near Church Street and Rio Grande Avenue
$10 per locker

Parking Transportation

STADIUM PARKING

3:00 pm // Stadium Parking Lots Open
Guests with pre-paid parking permits, for speedier and seamless entry into parking lots, download your permit to Wallet and have it ready to display.

Stadium Parking Map

DOWNTOWN ORLANDO PARKING & SHUTTLE SERVICE

1-Hour Post Event // Shuttle Service Ends
Parking is available around downtown Orlando with a free shuttle to/from the stadium.
Purchase Downtown Parking (Link coming soon)

If you are interested in using the free Downtown Shuttle, pickup and drop off is located at the City Commmons Parking Garage.

ROAD CLOSURES

Gate Entry

PLEASE NOTE: Camping World Stadium is implementing additional procedures to ensure guest safety, including designated entry points. It is recommended guests enter through the gate specified on their ticket.

The following gates provide access inside the stadium:

Gate A: NE corner of stadium near Church Street & Rio Grande Avenue
Gate B: East side of stadium off Rio Grande Avenue (Required Premium entry for Club, Lounge & Plaza Suites)
Gate C (AdventHealth): SE corner of stadium off Rio Grande Avenue
Gate D (FunSpot): SW corner of stadium off Tampa Avenue near Tinker Field and Parking Lots D and E
Gate E: West side of stadium near Tinker Field, off Tampa Avenue (Required Premium entry for Club, Lounge & Plaza Suites)
Gate F (Massey Services): NW corner of stadium off Church Street & Tinker Field

Seating Chart

ADA

For our complete ADA guide, please click HERE.

ADA PARKING*

LOCATIONS

East Hub - Lot 6
West Hub - Lot E
Hardscape Jones Hub - In front of Sports Complex
Church Street Hub - Across from Shuttle Site at Church St and Nashville Ave
Tampa North Hub - Tampa Ave & Pine Street
Tampa South Hub - On the Corner of Lot F (Old Lot K) at Tampa Ave and Carter

ADA stadium parking access requires the following:
Paid ADA-specific parking pass for the applicable lot AND Official state-issued disability tag.

MOBILITY CART SERVICE
A courtesy cart service is available for mobility-impaired fans from designated areas surrounding Camping World Stadium. There is a main mobility hub tent on the east and west sides of the stadium with wheelchair service to gates. Due to heavy post-game pedestrian traffic, cart service is suspended for 30 minutes at the end of the event. Guests may choose to use wheelchair services, which continue at Gates C and D to the main mobility hubs. Cart service continues until one-hour post-game.

ADA TICKETS
ADA tickets for patrons with disabilities may be purchased through Ticketmaster by calling 800.745.3000 or on Ticketmaster.com. ADA tickets can be found on Ticketmaster.com through the same purchasing process general seating tickets are sold. To locate ADA seating, click on the "Filters" button on the page's right side and toggle on the ADA icon
​ (refer to image below).

Box Office

CAMPING WORLD STADIUM BOX OFFICE IS OPEN ON EVENT DAYS ONLY.

Location: near Gate A near Church Street and Rio Grand Avenue
Hour of Operation (event-day only): 3:00 pm. Will Call is also located at the box office.

During non-event days, Amway Center box office serves as the primary box office for stadium events.

Address: 400 West Church Street // Orlando, FL 32801
Hours of Operation: Monday - Friday // 9 a.m. – 6 p.m.
Phone Number: 407.440.7900.
Accepted forms of Payment: Cash, Visa, MasterCard, American Express and Discover.

Camera Policy

CAMERA POLICY

Cameras with lenses longer than 3" are not permitted
Stadium reserves the right to approve camera use at any time during and/or before the event and to prohibit the use of any camera deemed unacceptable.
Camera policy is subject to change at promoter request.

Mobile Lockers

MOBILE LOCKERS

Available near Church Street and Rio Grande Avenue
$10 per locker

Prohibited Items

*For all other information, please visit our A-Z Guide

Additional Information

ALCOHOL POLICY*

Alcohol service ends 30 min before the show ends
*Club and Suite level guests may consume alcohol in the Club until post-event.

ASSISTED LISTENING DEVICES

Guest Services located near Section 148


ATMs

Locations

Field Level near Section 146
Near Guest Services (Section 148)


BABY CHANGING STATIONS

Field Level // All Field Level Men's and Women's Restrooms and Family Restrooms (Sections 110, 132, 145 & 151)
Plaza Level // Family Restrooms (Sections 101, 103, 115, 127, 129 & 141) and Press (Suites H, J & K)
Terrace Level // Family Room near elevators (west side only)

MAMAVA® STATION

Located outside Section 151

FIRST AID

Near Gate C // Stadium Administration Bldg.
​​​​Near Gate D // SW corner near the loading dock area


GUEST SERVICES

Located at north Box Office near Section 148


LOST & FOUND

Event Day

Guest Services (west side of North Box Office) until one (1) hour after the event.

Post Event

Stadium Security Office located at the loading dock – 407.440.5740


MAMAVA® STATION

Located outside Section 151


SENSORY ROOM

Check-in at Guest Services (near Section 148)
Located on Field Level between Section 103 and 105


SMOKING AREAS

Field Level // Outer concourses along stadium perimeter fence line
Plaza Level // Outer concourses along stadium perimeter
Terrace Level // Outer concourses along stadium perimeter


TICKET POLICY

If a child reaches their 2nd birthday by the day of the event, the child is required to have a ticket.