Oct 02 2020
Community Drive-In: Remember The Titans
Community Drive-In: Remember The Titans
Join Florida Citrus Sports, our neighbors and community leaders for a pop-up drive-in movie at Camping World Stadium on Friday October 2!
Gates open at 5:30 p.m. | The movie will begin shortly after 7:00 p.m. as the sun sets. Concessions will be available for purchase on-site.
"Though 2020 has been a unique and difficult year, the beginning of football season is an opportunity to rally together. FCS believes in the power of sports to unite neighbors and create lasting social change. Disney's 2000 family film Remember The Titans, based on the true story of the 1971 T. C. Williams High School football team, is a great example of that power.
We'll be screening the film on historic Tinker Field, the local baseball diamond that once hosted Jackie Robinson as well as a 1964 speech by Dr. Martin Luther King, Jr.
The event is free for all guests but tickets are required for entry. Each 'ticket' is good for one parking spot in view of the screen, with enough space for your vehicle and a small 'tailgate'-sized area for seating outside the vehicle."
Film Synopsis:
After leading his team to 15 winning seasons, football coach Bill Yoast is demoted and replaced by Herman Boone, a tough, opinionated and very different coach from the beloved Yoast. How these two men overcome their differences and turn a group of hostile young men into champions plays out in a remarkable and winning story.
Event Guidelines:
Guests should remain inside their vehicles or their adjacent 'tailgate' space.
Guests should social distance and remain 6' apart while visiting restrooms or concessions.
Appropriate facial coverings should be worn when outside of the vehicle.
No throwing, ball playing, frisbee, or similar activities.
Viewing from a truck bed or vehicle trunk is allowed as long as it does not impede the view of others.
Be courteous of those around you.
Cooking or grilling of any kind on premises is prohibited.
Tents are prohibited.
Event Partners:
Camping World
Massey Services
Fun Spot
City Beverages
Pepsi
Florida Distributing Company
Waste Pro
Read More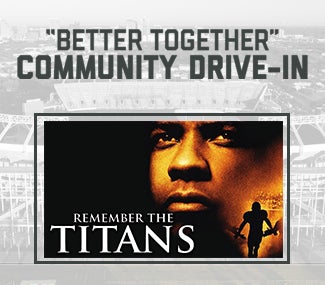 | | |
| --- | --- |
| | Fri, Oct 2, 2020 at 7:00 PM Cal |
| | |
| | |