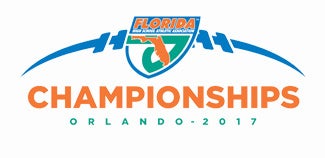 FHSAA Football State Championship Event Guide
Event Schedule

Thursday, December 7

11 a.m. – Gates A & B open
12 a.m. – Box office open
1 p.m. – Madison County (HOME) vs. Blountstown (AWAY)
7 p.m. – Cocoa High School (HOME) vs. William Raines (AWAY)

Friday, December 8

8 a.m. – Gates A & B open
9 a.m. – Box office open
10 a.m. – University Christians (HOME) vs. Champagnat CS (AWAY)
3 p.m. – American Heritage (HOME) vs. Baker County (AWAY)
8 p.m. – Armwood (HOME) vs. Miami Northwestern (AWAY)

Saturday, December 9

8 a.m. – Gates A & B open
9 a.m. – Box office open
10 a.m. – Chaminade-Madonna (HOME) vs. Oxbridge Academy (AWAY)
3 p.m. – Venice (HOME) vs. Bartram Trail (AWAY)
8 p.m. – Dr. Phillips (HOME) vs. Atlantic (AWAY)

Home Team – West side of stadium
Visiting Team – East side of stadium

Parking

Parking Lots:

Lot 6 - Public Parking
Lot 7 - Public Parking/RV Parking
Lot 10 - Disabled Parking—Must have a valid state issued decal/hangtag

Cash Day of Parking Prices:

Car parking is $10
Charter bus parking is $50.00 (make checks payable to City of Orlando)
RV parking is $15.00 (no overnight parking)
Tow vehicles are $10.00 (must have a permit)
Limo parking is $25.00

Road Closures

EVENT DAY ROAD CLOSURES:

Church St. between Tampa Ave and Rio Grande

Tailgating

PARKING LOT POLICIES

Tailgating is not permitted in Jones High School lot.
All vehicles that enter Camping World Stadium parking lots are subject to search.
Please follow the directions on the message boards that surround roads leading to the stadium for reserved, general or disabled lots.
In the event of severe weather, some lot entrances may be temporarily closed and you will be asked to remain in your vehicle until further notice.
Saving parking spaces is not permitted
Overnight parking is prohibited
Kegs are prohibited
Loud speakers are prohibited (unless permitted by the City of Orlando through the Orlando Police Department)
Infringing on another guest's tailgating area is prohibited
Political campaigning, picketing, or distributing handbills/pamphlets is prohibited
Sampling or distributing of items by unauthorized individuals is prohibited
Unauthorized solicitation of any kind is prohibited
Unlawful weapons and fireworks are not permitted in the parking lots
Fans that participate in disorderly conduct, including profanity, will be ejected
10'x10' tents are allowed directly behind vehicle and is strictly enforced. Do not block drive lanes
Tents over 10×10 are prohibited without prior approval
All patrons must pay the proper parking fee or present a parking pass in the stadium parking lots. The pass must remain prominently displayed in the vehicle
A parking fee will be charged for all spectator-type events held in the stadium
Parking passes are not valid for re-entries into the stadium's parking lots. Refunds or rain checks will not be given

Prohibited Items

​Air horns
Alcoholic beverages
Bottles
Cameras with detachable lenses and/or lenses 6 In. or longer
Cans
Carts
Chains of any kind
Coolers
Cycles
Drones
Fireworks
Glass containers
Go Pro cameras
Hard containers
Illegal drugs
Laptops, iPads or tablets
Laser pointers
Megaphones
Noisemakers (bells, horns, vuvuzelas, whistles, cowbells, ect.)
Outside food & beverage
Pets (except service animals)
Poles longer than 12"
Professional recording equipment (sound or video)
Recreational balls and equipment of any kind
Selfie-Sticks
Signs with indecent or derogatory comments/images, political statements, and commercial references
Signs larger than 2' x 2'
Skates
Skateboards
Unauthorized solicitation, handbills, giveaways, or sampling
Umbrellas
Weapons

Camera Policy

Video cameras and small cameras are OK. However, lenses over 6" will not be permitted into the stadium.

The event reserves the right to approve camera use at any time during and/or before the event and to prohibit the use of any camera that is deemed unacceptable. Cameras with a detachable lens, iPads and the use of flash photography are prohibited at all Camping World Stadium events. Call the administration office at 407.440.7000 prior to the event for any camera policy updates. Camera policy is subject to change at any time at the show's discretion.

Policies and Regulations

CAMPING WORLD STADIUM RULES & REGULATIONS

The Camping World Stadium is committed to creating a safe, comfortable and enjoyable experience for all fans, both in the stadium and parking lots. The following is a list of behaviors that will not be tolerated:

Abusive, foul or disruptive language and obscene gestures
Intoxication or signs of impairment related to alcohol consumption or drug use
Fighting, taunting or threatening remarks or gestures
Distributing handbills, pamphlets, etc., unless authorized by stadium management and the licensee renting the facility
Sitting in a location other than the guest's ticketed seat
Displays of affection not appropriate in a public setting
Obscene or indecent clothing
Disruption to the progress of the event by a guest's actions, including throwing or kicking objects
Behavior which otherwise interferes with other guests' enjoyment
Smoking* except in designated locations (*This policy applies to electronic and smokeless cigarettes) and spitting tobacco
Entering the stadium with unlawful weapons of any kind (except those required by Florida Law) See Camping Wolrd Stadium's List of Prohibited Items
Standing on chair seats or stepping over chair backs
Standing or sitting in walkways, aisles or ramps
Placing cups on the wall
Failing to follow event staff instructions
Re-entering the stadium

CAMPING WORLD STADIUM SECURITY POLICIES

Camping World Stadium will now require magnetic wanding for entry to all games. The magnetic wand is a non-invasive device that scans the body for prohibited items. If you decline screening for medical reasons or if a metal detector alert cannot be solved through inquiry or physical inspection, a physical pat-down might be necessary.

Due to this new policy, please arrive at least 15 minutes earlier than your normal arrival time. Your patience and assistance is appreciated while we work through this process in order to keep Camping World Stadium a safe environment for all of our guests.