Dec 28 2019
CAMPING WORLD BOWL
CAMPING WORLD BOWL
Notre Dame vs. Iowa State
The Camping World Bowl returns to Orlando on Saturday, December 28 at Noon ET. The game will help set the stage for a great day of college football that includes the College Football Playoff semifinals later that afternoon.
The 2019 Camping World Bowl features the top selection from the ACC (inclusive of Notre Dame) outside of the CFP series against the second selection form the Big 12 outside of the CFP series. Last year's contest saw Syracuse beat West Virginia 34-18 which helped guide the Orange to a 10-3 record, the team's best finish since 2001.
Learn more at www.CampingWorldBowl.com.
Read More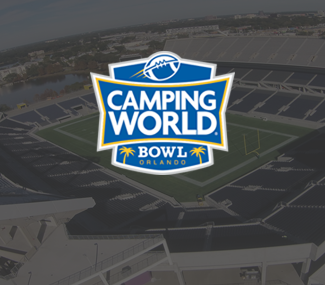 | | |
| --- | --- |
| | Sat, Dec 28, 2019 at 12:00 PM Cal |
| | |
| | |
| | Non-flash, still cameras, may be used to take pictures of sporting events or events where house lights are illuminated during a performance. Cameras with detachable lenses or lenses longer than six (6) inches when extended are prohibited from all Camping World Stadium sporting events. Tripods or other photography equipment may not be used or admitted without building issued media credentials. |
| | |