Sep 01 2018
2018 CAMPING WORLD KICKOFF
2018 CAMPING WORLD KICKOFF
CRIMSON TIDE VS. CARDINALS
Coming to the game? Click here for our event guide!
Please note Alabama is on the East (Section 108) and Louisville is on the West​ (Section 134).

Click here to reserve your parking spot!
The Alabama Crimson Tide will play the Louisville Cardinals in the Camping World Kickoff during college football's opening weekend this year. The neutral-site season opener is part of an annual series of Camping World Kickoff games.
The 2018 matchup is the second announced game in a multi-year agreement between Florida Citrus Sports (FCSports) and ESPN Events, a division of ESPN, to host major neutral-site, regular-season college football games in Camping World Stadium. Camping World Stadium is already home to the Citrus Bowl, Camping World Bowl and Florida Blue Florida Classic games.
"This game continues a trend of big-time events landing in the brand-new Camping World Stadium," said Past Chairman Harold Mills. "Alabama and Louisville is a great matchup to start the 2018 season and yet another reason to become a season ticket member of our organization -- to get access to premium seats for games like this."
"We are thrilled to have the Alabama Crimson Tide and the Louisville Cardinals play in Camping World Stadium to open the 2018 college football season," said Pete Derzis, Senior Vice President, ESPN Events. "This game has all the makings to be not only a quality matchup of two great college football programs, but also serve as a wonderful experience for the student-athletes and fans."
To date, Alabama has played twice in Orlando, with this being its first neutral-site regular-season game in The City Beautiful. It won the 1995 CompUSA Florida Citrus Bowl, 24-7, over Ohio State, and was victorious in the 2011 Capital One Bowl, 49-7 over Michigan State.
"The 2018 game will mark the seventh consecutive neutral-site season opener for the Crimson Tide," said the past Director of Athletics Bill Battle. "Neutral-site games have been good for Alabama in national exposure as well as financially under Coach Saban's leadership. Our first regular-season neutral-site game in Orlando will provide another great matchup of national interest against an excellent Louisville program, but is also a new venue that I believe our fans will enjoy."
This will be the first neutral-site regular-season game for the Cardinals in Orlando as well. The Cardinals have played in Camping World Stadium twice before, competing in the 2013 Russell Athletic Bowl (36-9 victory over Miami) and 2016 Citrus Bowl (29-9 defeat against LSU).
"Kicking off the 2018 season with a great opponent like Alabama is a tremendous way to start the season," said former Louisville Athletics Director Tom Jurich. "We continually want to play highly respected opponents each year, and adding a traditional power like Alabama in the opener will certainly be an outstanding challenge. We have a vision to be the best we can be, and to do that, we have to play the best. We are also thrilled to be headed back to a destination city like Orlando. I know our fan base will respond for this tremendous match-up."
Read More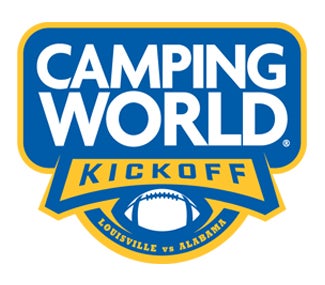 | | |
| --- | --- |
| | Sat, Sep 1, 2018 at 8:00 PM Cal |
| | |
| | |
| | Non-flash, still cameras, may be used to take pictures of sporting events or events where house lights are illuminated during a performance. Cameras with detachable lenses or lenses longer than six (6) inches when extended are prohibited from all Camping World Stadium sporting events. Tripods or other photography equipment may not be used or admitted without building issued media credentials. |
| | |